"MY CUP OF KAFKA" DRAWINGS, PRINTS AND PAINTINGS BY JIRÍ SLÍVA
The exhibition runs from 22 February 2018 at Jewish Museum in Prague.
An exhibition of works by the graphic artist and illustrator Jirí Slíva will be held at the Jewish Museum's gallery for his 71st birthday. It will feature a number of drawings, colour lithographs, etchings, pastels and oil paintings on the artist?s favourite themes Franz Kafka, Sigmund Freud, the Golem, Jewish customs/symbols, and biblical motifs as well as other material inspired by the works of Jewish writers. Jirí Slíva has been preoccupied with Jewish humour and illustrating the works of Franz Kafka for many years. In December 2017, the Franz Kafka Publishing House published My Cup of Kafka, a book featuring Slíva's main artworks inspired by the great writer. A selection of these works will be on display at the exhibition. Also on view will be a range of Slíva's illustrations from books by the Czech-Israeli writer Ruth Bondy, which are dedicated to the language, names and special idioms of Czech Jews. Slíva's exhibited work also includes depictions of café society and scenes from everyday life, which are marked by absurd humour and a love of jazz, wine and dancing.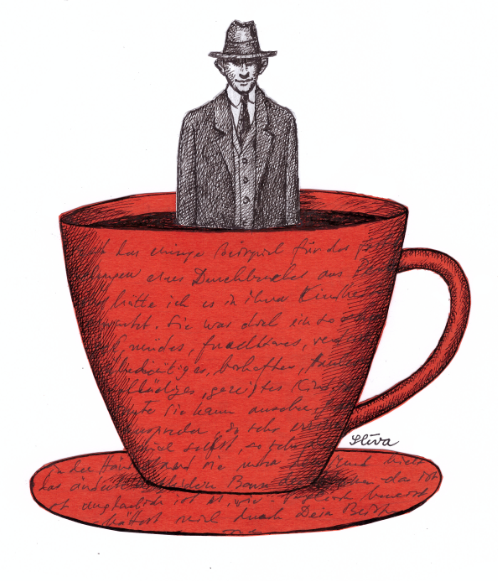 JIRÍ SLÍVA
Jirí Slíva was born on 4 July 1947 in Pilsen. Since 1966 he lives in Prague. He studied at the University of Economics and after graduation in 1971 worked at the Institute for Philosophy and Sociology of the Czechoslovak Academy of Sciences, Department forecasters. His first drawing was published in 1972 in the Annex Weekend of the magazine Mladá fronta. Since 1979 works as a freelance artist. He is concentrating mainly to cartoon and illustration, and later also to the graphic art lithography, etching and dry needle and since 1995 also to the oil painting. The artworks of Jirí Slíva have been exhibited in numerous individual exhibitions in Europe and overseas (we can mention at least cities like Rome, Paris, Berlin, Amsterdam, Brussels, Vienna, Moscow, New York, Havana, and many others). For his inventive creative work was awarded many important prizes at international cartoon competitions and festivals all over the world. He is often invited as a jury member of prestigious competitions. He published over 15 his own books of cartoons in Germany, Switzerland, France, USA and the Czech Republic. His drawings have appeared in more than 150 books and in many Czech and foreign newspapers and magazines such as New York Times, Los Angeles Times, The Wall Street Journal, Playboy, Die Welt, Die Zeit, Nebelspalter, Eulenspiegel, Artworks of Jiri Sliva are represented in the permanent collections of several Czech and foreign museums and galleries, as well as in private collections. He is also devoted to teaching and lecturing, for example he lectured in Salzburg, Philadelphia, New Orleans, Ohio, North Carolina. He lives and works in Prague, Czech Republic.